World's Challenge Challenge Competition Winners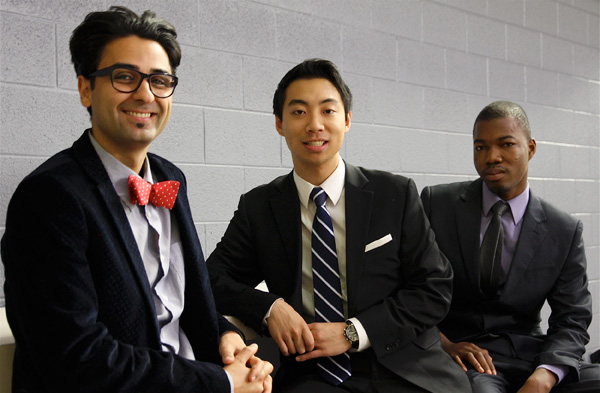 As part of Western's inaugural International Week, the World's Challenge Challenge competition brought together diverse student teams from across campus, each presenting an innovative approach to an issue facing the world today.
Students were tasked with thinking of a problem, as well as a solution, which they then presented to a panel of judges. The final round, featuring six teams of three, was held Tuesday evening in the Dr. David S. H. Chu International Student Centre. The judges for the final panel included Social Science Dean Brian Timney, Science Dean Charmaine Dean and Western's Provost and Vice President Janice Deakin.
The winning team was awarded a $1,000 scholarship, per team member, to be used on an international learning opportunity sanctioned by Western.
First place
Develop innovative, inexpensive, and safe alternatives to space heating and cooking using solar energy in developing communities
Sep Pashang, Kevin Vuong (DAN Management graduate) and Joseph Kangmen
Second place:
Payback Rates for Microcredit Loans
Anderson Petergeorge, Kaiz Alarakyia, Marco Chan
Third place:
Food security in Africa
Aaron Pinto, Soheil Milani, Richard Schuett