Key Success Factors follow up
For those of you who missed the March 3rd kick-off event, you can still participate.  This unique program has been designed by Deborah Clarke (who has worked with DAN Management students for the past 15 to launch some amazing careers), and is being offered FREE for DAN Management Students to participate.
It is a 100% online program that will allow you to plan a personalized career plan after graduation.  Register for the program this semester while it is being offered to you free, as a DAN Management Program student.  You can complete the program at your own pace once you have access to the information.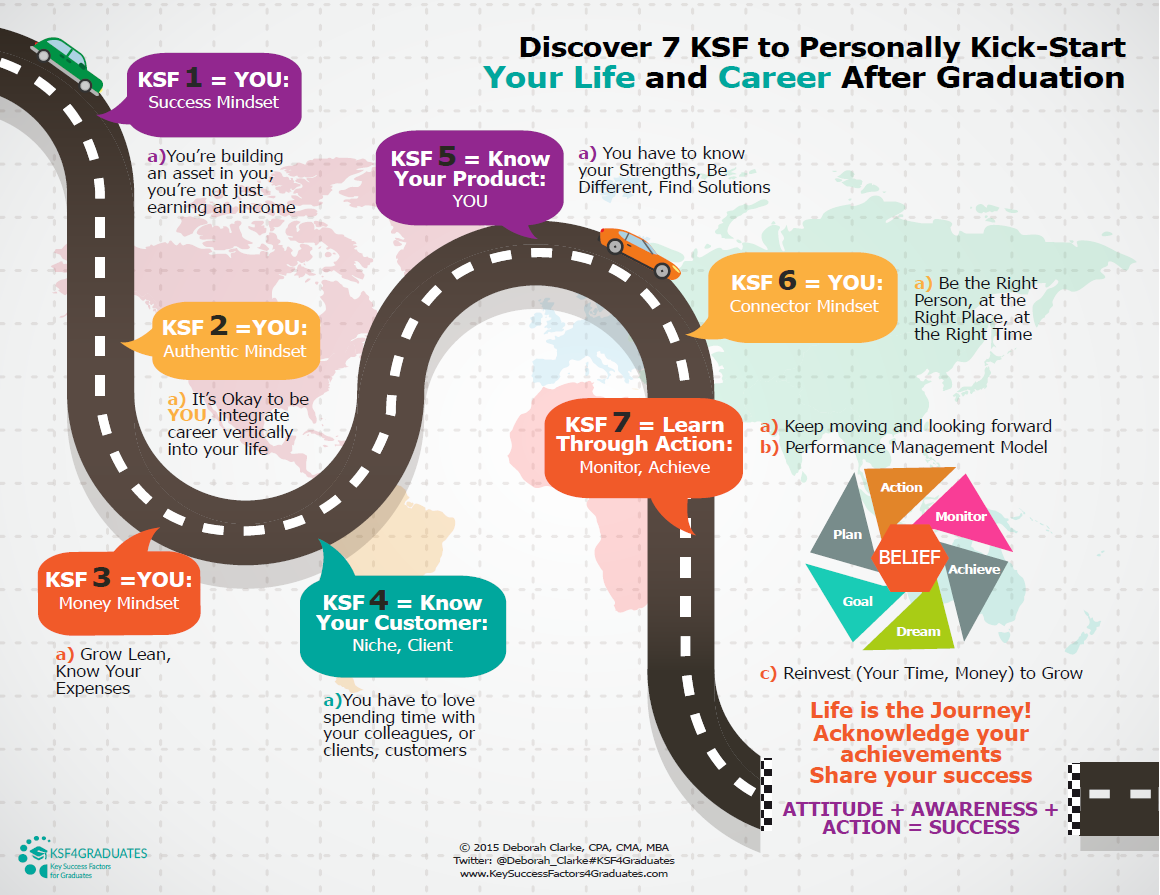 WHAT ARE KEY SUCCESS FACTORS?
The combination of important facts that is required in order to accomplish one or more desirable business goals.
This program uses an entrepreneurial approach to determining the right career path for you after graduation.  You are the 'product or asset' and your career is your business.  Deborah will walk you step by step through 7 Key Success Factors to kick-start your career success.
To continue on this career clarity journey and learn more about the 7 Key Success Factors for Graduates, you will experience a two-step process:
1)      A 2 week Career Clarity Challenge (CCC); you will receive a daily email from Deborah personally for two weeks.  All will provide some sort of inspiration to keep you thinking about moving forward and preparing you for your career.  Some emails will include an exercise for you to complete, others will simply be an inspirational thought for the day.
2)      On March 17, the full "7 Key Success Factors for Graduates" program will launch online.  As part of the 2wk CCC and the DAN Management Program (Winter 2015 Semester) you will automatically receive information to register FREE for this innovative online self-development career success program.  It will be 100% online, no classes to attend.  
This program is unique, one of a kind, there isn't another career success program like it.  Completely designed by Deborah Clarke, who has 15 years of experience helping DAN Management, BMOS Students transition into some great careers.  (Check out the video with more information about Deborah at the registration link below).  This program will give you the confidence to go out and really earn your worth in the marketplace.   Make this your career success advantage.
REGISTER FREE (For DAN Management Program Students ONLY)
Take the 2 week career clarity challenge now, and Deborah will send you more information about the launch of the full 7 KSF for Graduates Program as we get closer to the March 17 launch date.
Deborah Clarke, CPA, CMA, MBA
Founder and CEO, ebizcoach.ca
P.S. – You can complete both parts of this program (2wk CCC + 7KSF for Graduates) at your own pace.  Work around your schedule … make this program your competitive advantage.  Don't miss out.
P.S.S. – NOTE: when this program launches to the public later this spring it will be $497 per person.  It is FREE to you as a DAN Management Program student this semester.  Register for it now, and complete it at your own pace – once registered the information will always be available to you.